Scale-free and small-world networks in geographical research: A critical examination
A rapid surge of interest for networks in the late 1990s throughout natural and social sciences has witnessed the emergence and the diffusion of new concepts and measures. In this paper, we wish to examine how two recent models of networks (i.e. scale-free and small-world) have been integrated in the works of geographers, what have been the benefits, and whether such concepts are likely to increase their influence in further works on networks. First, we propose a critical review of the 'scale-free' and 'small-world' concepts, notably based on a review of the physics literature. The second section examines the spatial dimension in networks studies, and the third one evaluates how geographers have used these measures and concepts in their works. In conclusion, we question the benefits of these two models of networks to geography compared with other approaches such as the ones developed in sociology.
Les années 90 ont été marquées par un intérêt croissant des scientifiques pour les réseaux. Elles ont également vu l'apparition de nouveaux modèles théoriques (invariant d'échelle et petit-monde) et de nouvelles mesures. Après une revue critique des réseaux scale-free et small-world, la deuxième partie examine l'intégration de la dimension spatiale dans les études de réseaux. La troisième partie évalue la façon dont les géographes ont utilisé ces mesures et concepts dans leurs travaux. En conclusion, nous nous interrogeons sur les avantages de ces deux modèles de réseaux pour la géographie comparés avec d'autres approches telles celles développées en sociologie.
Fichier principal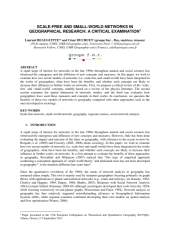 Beauguitte_Ducruet_2011_SF_and_SWnetworks_in_geography.pdf (219.49 Ko)
Télécharger le fichier
Origin : Files produced by the author(s)