Prospections dans la moyenne et basse vallée de l'Hérault : monnaies et petits objets
Archaeological survey provides a mass of information on rural settlements in their various aspects : Roman villae or more ordinary houses; tombs; sanctuaries... Among this data, coins and metal objects are fragile documents : not only their integrity, but more often the information linked with the precise location, and conditions of sampling, ofter vanish with the person who found them. It was therefore considered a priority to record such information when we started to study the ancient settlement in this area, and the caution has proved useful. 25 years later, this data still belongs to the basis on which our interpretation of the sites can be based.
Parmi la masse documentaire que livrent les prospections archéologiques dans les zones cultivées, notamment en viticole, les monnaies et les petits objets comptent parmi les documents les plus menacés : c'est non seulement l'objet qui peut disparaître physiquement, mais bien souvent, toute l'information liée au contexte de découverte et à son emplacement précis qui peuvent s'évanouir avec les souvenirs de l'inventeur. C'est la raison pour laquelle, en commençant à étudier l'occupation ancienne de la vallée de l'Hérault, il nous avait semblé particulièrement urgent de répertorier ce type de document, en préalable aux grandes campagnes de prospection systématique, puis aux fouilles qui allaient suivre dans les années suivantes. Vingt-cinq ans plus tard, ce dossier garde tout son intérêt, et les documents publiés alors ont conservé leur place dans la documentation liée aux sites archéologiques de cette région.
Fichier principal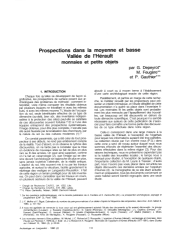 Depeyrot_1986_Prospections_val_Herault_.pdf (36.3 Mo)
Télécharger le fichier
Origin : Explicit agreement for this submission