Epées miniatures à fourreau d'os, d'époque romaine
Miniature knives in the shape of a sword in its bone sheath are known from several Western provinces, especially Gaul and Germany. They were often considered as votive offerings but a contextual approach shows that they are only expressing the Roman provincial taste for elaborate personal objects. Such items, appreciated for the skill of the bone craftsmen and their shape, were probably used as personal objects rather than anything else.
Des petits couteaux en forme d'épée dans leur fourreau en os sont connus dans plusieurs provinces occidentales, en particulier en gaule et dans les Germanies. Ils ont souvent été considérés comme des objets votifs, mais une approche contextuelle montre qu'ils se contentent plus probablement d'illustrer le goût provincial pour des objets soignés. Appréciés pour l'art de leurs producteurs tablettiers, ces couteaux miniatures étaient sans doute utilisés avant tout comme des objets personnels.
Fichier principal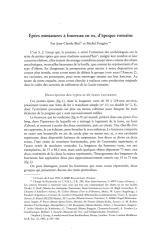 Beal_Feugere_1987_Epees_miniature_.pdf (8.4 Mo)
Télécharger le fichier
Origin : Explicit agreement for this submission