Analyses dynamiques et longitudinales de réseaux
This synthesis by the "groupe fmr" (flux, matrices, réseaux) deals with dynamic and longitudinal network analysis. A graph often results from the reduction of a structure in two dimension. Taking time into account implies studying a longitudinal serie of graphs or studying a dynamic graph (citation graph, lineage). We show there is a huge variety of problem areas justifying a dynamic or longitudinal network analysis. These problems are often problems of linkage between the "decor" and the "backcloth" (as defined by Ron Atkin) of the phenomenon under scrutiny. We present methods to modelize and cluster evolving graphs and methods to analyse bifurcations.
Cette synthèse du groupe fmr (flux, matrices, réseaux) s'intéresse aux analyses dynamiques et longitudinales de réseaux. Un graphe est souvent le résultat de la réduction d'une structure en deux dimensions. Aussi, la prise en compte du temps s'effectue soit par l'étude d'une série de graphe successifs, soit par l'étude d'un graphe dynamique (lignage, citation). Il existe une grande diversité de questions de recherche pour lesquelles une analyse dynamique ou longitudinale de graphe se justifie. Ces questions reviennent souvent à interroger les rapports qui existent entre "le décor" (le cadre ou la structure) et "le trafic" (les contacts, les évènements ponctuels) tels que définis par Ron Atkin. Les méthodes de modélisation (prédiction d'un graphe), de partitionnement (détection de groupes stables dans le temps), et d'analyses de bifurcations sont présentées.
Fichier principal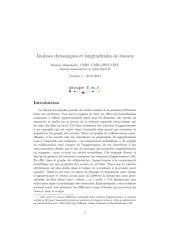 dynamique_MM_fv.pdf (161.38 Ko)
Télécharger le fichier
Origin : Files produced by the author(s)