Manéga en Bessarabie, Bello au Chili et Boissonade au Japon. Trois réformateurs du XIXe siècle face au modèle juridique français
In this article, we continue to explore the ways French legal model has circulated in the world. In the nineteenth century, we must insist on several factors: geopolitical, historical, cultural and technical. About technical advantages, we propose to examine how three reformers (Manéga in Bessarabia, Bello in Chile and Boissonade in Japan) used the French Civil Code. Despite several differences, the working methods are both similar. The authors explained the way they do: instead of a simple transfer, they made a work of comparison, they made choices about the criterion of legal status, before moving on to the drafting of a code. As such, the use of certain legal mechanisms of the French Code appeared, for them, as obvious.
Dans cet article, nous continuons à explorer les façons modèle juridique français a circulé dans le monde. Au XIXe siècle, il nous faut insister sur plusieurs facteurs : géopolitique, historique, culturel et technique. À propos des avantages techniques, nous nous proposons d'examiner comment les trois réformateurs (Manéga en Bessarabie, Bello au Chili, Boissonade au Japon) ont utilisé le Code civil français. Hormis quelques différences, les méthodes de travail sont dans tous les cas similaires. Les auteurs ont exposé leur approche : au lieu d'un simple transfert, ils ont accompli un travail de comparaison et fait des choix sur le critère du statut juridique, avant de passer à la rédaction d'un code. En tant que telle, l'utilisation de certains mécanismes juridiques du Code français est apparue, à leurs yeux, comme une évidence.
Fichier principal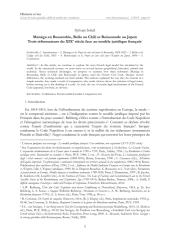 Sylvain_Soleil.pdf (322.28 Ko)
Télécharger le fichier
Origin : Files produced by the author(s)