Nicolas Bergasse et la souveraineté de la raison universelle
Legal scholar and philosopher, Nicolas Bergasse develops at the beginning of the French Revolution a political and constitutional thought based on original philosophical conceptions. Deputy of the Estates-General and the National Constituent Assembly, he tries to link the philosophical concept of reason to that of political sovereignty, a legal concept with impor- tant practical consequences. A major personality of the 'Monarchien' party,Bergasse is quickly classified as an opponent of the Revolution. His idea of the sovereignty of universal reason acts like a bridge between the political rationalism of the Enlightenment and designs that will soon be exposed, a few decades later, by the 'Doctrinaires' of the Bourbon Restoration. At the crossroads of historical, legal and philosophical studies, this article aims to analyze precisely Bergasse's thought and to follow the steps of his reasoning.
Juriste et philosophe, Nicolas Bergasse exprime dans les premiers temps de la Révolution française une pensée politique et constitutionnelle qui se fonde sur des conceptions philosophiques singulières. Député aux États généraux puis à l'Assemblée nationale constituante, il développe une théorie méconnue : la souveraineté de la raison universelle. L'auteur mêle alors différentes disciplines en tentant de lier la raison, concept fondamental mais complexe dans l'histoire de la philosophie, à la souveraineté politique, notion juridique essentielle aux conséquences pratiques déterminantes. Figure majeure du courant monarchien, Bergasse est rapidement rejeté du côté de la contre-révolution par l'emballement révolutionnaire. En soutenant l'idée d'une souveraineté de la raison universelle, son discours apparaît comme un témoin entre le rationalisme politique issu de la pensée des Lumières et les conceptions qui seront bientôt exposées, quelques décennies plus tard, par les doctrinaires de la Restauration. Ainsi, en s'appuyant sur des textes peu étudiés et à la croisée des disciplines historiques, juridiques et philosophiques, l'article se propose d'analyser précisément la réflexion de Nicolas Bergasse sur la souveraineté de la raison universelle et de distinguer les étapes de son raisonnement.
Fichier principal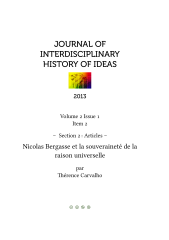 NicolasBergasse-accepted.pdf (702.46 Ko)
Télécharger le fichier
Origin : Publisher files allowed on an open archive