Analyser le travail enseignant pour concevoir l'intervention éducative : est-ce utile et pour quoi faire ?
The contribution tackles the interest and aim of the analysis of professionals' activities in order to design, elaborate and steer the continuing professional development (CPD) programmes. It concerns specifically teacher work but could interest other professions based on human interactions. In line with the model of the didactique professionnelle, this paper addresses a reflexion about theoretical and methodological frameworks aiming to better understand professionals' activities and conceptions, in order to better adapt the educational and training programmes. The first section concerns the functions of the educators, trainers and learners within these programmes. The second tackles les connexion between formal and informal professional learning. The third focuses on the design of CPD programmes which is often a forgotten stage of the reflexion about education and training. The fourth, with regards of the previous ones, proposes a methodology for elaborating a model of the professionals' conceptions drawn on their activities' analysis. The conclusion outlines further questions and research tracks.
Cet article s'attarde à l'intérêt et aux finalités de l'analyse de l'activité des professionnels de l'intervention éducative pour la conception, la construction et la conduite des dispositifs de formation qui leur sont destinés. Elle concerne plutôt le métier enseignant, mais aussi de nombreux métiers de l'humain. Inscrite dans le modèle de la didactique professionnelle, elle développe une réflexion à propos des cadres conceptuels et des méthodologies permettant de comprendre l'activité des professionnels et d'identifier leurs conceptualisations, dans le but de mieux adapter les dispositifs de formation. La première section observe la fonction du formateur et de l'apprenant dans les dispositifs de formation. La deuxième concerne l'articulation entre les dispositifs de formation et les apprentissages informels, ceux qui se construisent sans intervention préconçue. La troisième vise la conception des dispositifs de formation qui est une étape souvent délaissée dans les réflexions sur le développement professionnel. La quatrième, au regard des précédentes parties, propose une méthodologie pour modéliser les conceptualisations des professionnels à partir de l'analyse de leur activité. La conclusion ouvre sur des questionnements et des pistes de recherche.
Fichier principal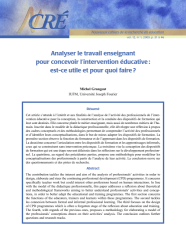 2009_Grangeat-NCre12_1.pdf (163.36 Ko)
Télécharger le fichier
Origin : Publisher files allowed on an open archive