Conception sémiotique de l'ostension didactique.
Ostension is a common mode of communication based on a consensus, tacit or explicit, that links the things shown and the object at stake in the communication process (Eco, 1992). Different views of ostension have been developed through research in didactics conducted under the theory of didactic situations (Brousseau, 1998), studying the evolution of didactic situations in instruction. The role of signs in didactic transposition has also been studied through the notion of ostensives in the anthropological theory of didactics (Bosch & Chevallard, 1999). Our approach follows these research studies in a different way, retaining a semiotic view of ostension based on the links between icon, index, and symbol proposed by Peirce and interpreted by Conne (2008) in the field of research in didactics. Our work permits us to characterize didactic ostension as ostension of an object of knowledge for which the consensus must be explicit in the didactic situation. This need is a consequence of the symbolic character of language, and of the specific examples produced in this kind of communication. Thus the thesis of this article is that didactic ostension is itself a symbolic sign of the didactic transposition process.
L'ostension est une forme courante de communication basée sur " une forme de consensus tacite ou explicite " liant les choses montrées à l'enjeu de la communication (Eco 1992). Son étude en didactique a donné lieu à différentes conceptions au regard de problèmes théoriques liés à l'étude des situations en Théorie des Situations Didactiques (Brousseau 1998) et au rôle des ostensifs dans le processus de transposition didactique en Théorie Anthropologique du Didactique (Bosch & Chevallard 1999). Nous poursuivons les travaux engagés en développant une conception sémiotique de l'ostension dans une perspective didactique basée sur les distinctions icône, indice et symbole introduites par Peirce et la lecture qui en est faite par Conne en didactique des mathématiques (Conne 2008). Notre travail amène alors à caractériser l'ostension didactique comme une ostension d'un objet de savoir pour laquelle l'explicitation du consensus est contrainte par le caractère symbolique du langage et des exemples produits dans cette forme de communication. De sorte que l'ostension didactique est elle-même un signe symbolique du processus de transposition didactique.
Fichier principal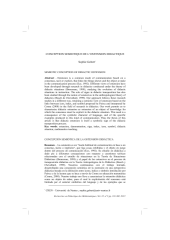 Gobert_2012_ConceptionSemiotiqueOstension_RDM32-2-3.pdf (1.6 Mo)
Télécharger le fichier
Origin : Explicit agreement for this submission