Dramatic activities and ICTE in language acquisition:
Learning a foreign language for professional/specific purposes through Role Plays and Online Games
The value of drama activities in language classes has been demonstrated for several years. Researchers have laid the stress on the motivation of learners who can express their creative fiber freely. Drama and drama activities promote the development of general competences along the lines of the Common European Framework for language learning. They help learners to broaden their knowledge on the world, to strengthen or acquire new skills and know-how, to consolidate their existential competences as well as their ability to learn. They also promote the improvement of communicative language competences (in terms of linguistic skills, sociolinguistic abilities and pragmatic capacities). They are particularly relevant in the context of an action-oriented approach to language learning for students in Business English. Putting them into realistic situations through drama activities facilitates their learning of English. However, it cannot be denied that the differences of capacities among learners might hamper their acknowledgment of all the benefits of drama. The increase of IT tools with a pedagogical purpose multiplies the strategies to strengthen the competences above mentioned. Therefore the creation of avatars on online games like Second Life might be an alternative to improve the learners' competences. In this paper, we shall study the complementary nature of drama activities and online games in terms of general competences. We shall then analyze the extent to which they both improve the communicative language competences. Finally, we shall demonstrate how they both lead to the autonomy of the learners in real business situations.
Fichier principal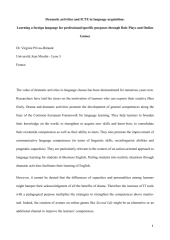 drama_activities_and_online_games.pdf (146.74 Ko)
Télécharger le fichier
Origin : Files produced by the author(s)