La question du métissage et de l'héritage africain dans la musique populaire de Veracruz, Mexique
Based on a fieldwork carried out in the town of Veracruz (Mexico), this article explores the ethnic and racial identifications, which come under the African roots of the mestizaje. In absence of afro militant mobilization in the area, it's mostly in the field of popular music, that one attends the highlighting of the black or African cultural dimension. At first, the elements, which contributed to the implementation of a cultural policy centred on the afro-Caribbean aspect, were recalled. Then, the uses of social categories to qualify these music styles were analysed. Finally, the ethnographic description of a cultural program will allow us to understand how this African aspect of the mestizaje, is played on in the urban public space.
A partir de un trabajo de campo llevado a cabo en la ciudad de Veracruz (México), el texto trata de las condiciones de producción de las identificaciones etno-raciales remitiendo a las raíces africanas del mestizaje. En ausencia de movilizaciones militantes afrodescendientes en esa región, la dimensión cultural llamada negra o africana resalta más que todo en el ámbito de la música popular. En primer lugar, el autor analiza la dinámica social que contribuyó a la puesta en marcha de una política cultural centrada en esta dimensión afro-caribeña. Luego, toma en consideración los usos sociales de las categorías que sirven a calificar estas músicas. En fin, la descripción etnográfica de un programa cultural permite entender cómo esta dimensión africana del mestizaje se expresa en los espacios urbanos.
À partir d'une enquête de terrain menée dans la ville de Veracruz au Mexique, cet article explore les conditions selon lesquelles sont produites les identifications ethno-raciales renvoyant aux racines africaines du métissage. En l'absence de mobilisations militantes afrodescendantes dans cette région, c'est surtout dans le domaine de la musique populaire que l'on assiste à la mise en relief de la dimension culturelle dite noire ou africaine. Après avoir retracé les éléments qui ont contribué à la mise en œuvre d'une politique culturelle centrée sur cette dimension afro-caribéenne, l'auteur analyse les usages sociaux des catégories et des stéréotypes renvoyant au métissage et à l'héritage africain dans le discours des musiciens. A partir d'une description ethnographique d'une manifestation culturelle, il montre enfin comment s'exprime cette dimension africaine du métissage dans les espaces urbains.
Fichier principal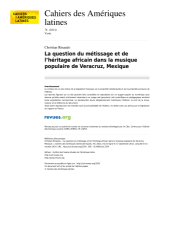 CAL-2014-Rinaudo.pdf (218.46 Ko)
Télécharger le fichier
Origin : Publisher files allowed on an open archive