Les services urbains à Beyrouth : entre crise infrastructurelle et réformes contestées
The article reviews the reform process of four sectors of urban services: waste collection, water delivery, waste water and electricity. These reforms can be read as the imposition of a neoliberal order in Lebanon. But their implementation bump into the Lebanese system based on political and sectarian clientelism, which subverts their outcomes. Three criteria are used in the analysis: the territorial dimension, with new operation perimeters, public-private partnerships; and the financing of the services. After examining the legacy of the civil war and of the reconstruction years, the article analyses each sector separately. It concludes by highlighting the partial implementation of the reforms, because of the resistance of the ruling class, and by underscoring that the infrastructural crises has led to growing social and spatial discrepancies.
L'article étudie les réformes de quatre services urbains à Beyrouth : les déchets, l'eau, l'assainissement, et l'électricité. Ces réformes peuvent être lues comme l'imposition d'un ordre néolibéral au Liban. Mais par ailleurs, elles se heurtent au système libanais de clientélisme politique et confessionnel, qui en subvertit les résultats. Trois critères d'analyse des réformes sont mis en avant : leur dimension territoriale, avec de nouveaux périmètres de gestion ; les partenariats public-privé ; et le financement des services. Après une analyse de l'héritage de la guerre civile et des projets de reconstruction, l'article analyse chaque secteur séparément. Il conclut sur la mise en œuvre très partielle de ces réformes, sous l'effet de la résistance de la classe politique et de ses pratiques, tout en soulignant que la crise infrastructurelle conduit à un approfondissement des inégalités sociales et spatiales.
Fichier principal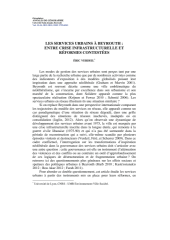 3. Eric Verdeil.doc.pdf (1.02 Mo)
Télécharger le fichier
Origin : Explicit agreement for this submission