Shedding Some Light on a Possible Origin of a Concept of Fractions in China Division as a link between the newly discovered manuscripts and The Gnomon of the Zhou [Dynasty]
Der Aufsatz weißt darauf hin, dass die mathematische Handschriften vom dritten oder zweiten Jahrhundert v. Chr., die vor kurzem in China ausgegraben wurden, eine Terminologie für Division enthalten, die nicht in den durch die schriftliche Überlieferung übertragenen mathematischen Büchern zu finden ist. Die einzige Ausnahme davon ist das älteste mathematische Buch, das Mathematik für Astronomie vorstellt und von dem ein Teil um etwa 100 v. Chr. geschrieben wurde, Das Zhou-Gnomon. Die Verfasserin weißt vor, dass es ein ähnliches Algorithmus für die Division in den Handschriften sowie in dem Zhou-Gnomon gibt, das älter als das Algorithmus chu ist, das später wohl verbreitet wurde. Sie stellt die Hypothese vor, dass das Begriff von Bruch, das in den ältesten mathematischen Schriften in Chinesisch bewiesen ist, mit diesem älteren Algorithmus eng verbunden ist.
The article suggests that the mathematical manuscripts from the 3rd and 2nd century BCE recently excavated in China present a terminology for division that is not attested in the mathematical books in Chinese handed down through the written tradition. The only exception to this rule is The Gnomon of the Zhou, the oldest mathematical book handed down, which presents mathematics for the astral sciences and dates partly from ca. 100 BCE. The author argues the manuscripts and The Gnomon of the Zhou refer to a common algorithm for division, which is older than the algorithm to which the verb chu 除 refers and which the latter later replaced. She also puts forward the hypothesis that the concept of fraction with numerator and denominator attested to in the earliest extant mathematical writings in Chinese was tightly connected with this older algorithm.
Fichier principal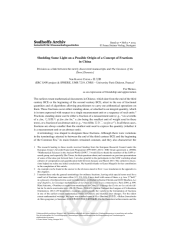 Sudhoff_2013_2_174-198_ChemlaDivision.pdf (1.8 Mo)
Télécharger le fichier
Origin : Explicit agreement for this submission