Acquisition de schwa en français L1 : analyse de corpus denses d'interactions parents-enfant
Analysing corpora of interactions between parents and their children collected in everyday situations, this study investigates the acquisition of the phonological variation between schwa realisation and elision in monosyllabic words in French as a first language. Furthermore, it aims at comparing parents' oral discourse and their children's speech in order to examine the influence of parental input on the development and the acquisition of this phonological variable. Our analyses show that the linguistic input to which the children are exposed affects the way they acquire the variation and use the schwa in their own speech. Moreover, parents tend to adjust their speech to their child's linguistic development and to make decisions about whether to elide or to realise the schwa according to the syntactic context in which the monosyllabic word occurs. These choices might reveal that the parents are conscious of the difficulties generated by the schwa elision and provide a more analytical input to facilitate the children's chunking of complex word groups and acquisition of vocabulary.
Cet article se propose d'étudier, à partir d'un corpus d'interactions parents - enfant recueillies en situation naturelle et issues du projet ALIPE, l'acquisition de la variation phonologique entre réalisation et élision du schwa dans les monosyllabiques. Il a aussi pour objectif de comparer le discours parental et enfantin pour observer l'influence de l'input sur l'acquisition de la variable phonologique. Les analyses révèlent que l'évolution de l'acquisition de la variable phonologique serait influencée par le langage auquel les enfants sont exposés. Par ailleurs, les parents semblent ajuster leurs discours en fonction du développement linguistique de leur enfant et tendent à élider davantage le schwa en direction d'enfants maîtrisant cette variation. De plus, l'élision du schwa dans les énoncés adressés à l'enfant semblent conditionnée par le contexte syntaxique, comme nous l'observons avec le monosyllabique « le ». En effet, alors que l'élision est très fréquente en contexte verbal (« le » pronom), le schwa est beaucoup plus souvent maintenu en contexte nominal (« le » article). Ces données pourraient révéler une stratégie mise en place par les parents dans le but de faciliter l'acquisition du vocabulaire par l'enfant.
Fichier principal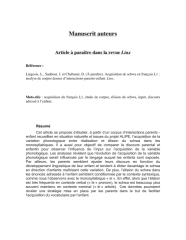 Linx_finale-Liegeois_Saddour_Chabanal.pdf (1.1 Mo)
Télécharger le fichier
Origin : Files produced by the author(s)