Abstract Economies with Endogenous Sharing Rules
Endogenous sharing rules was introduced by Simon and Zame to model payoff indeterminacy in discontinuous games. Their main result concerns the existence of a solution, i.e., a mixed Nash equilibrium and an associated sharing rule. This note extends their result to abstract economies where, by definition, players are restricted to pure strategies, and provide an interpretation of Simon and Zame's model in terms of preference incompleteness.
La notion de règle de partage endogène (« Endogenous sharing rules ») a été introduite par Simon et Zame (Econometrica 1990) afin de modéliser la possible indétermination des paiements dans les jeux stratégiques discontinus. Leur résultat principal est l'existence d'une solution, c'est à dire qu'un équilibre de Nash mixte et d'une règle de partage associée. Dans cette note, l'on étend leur résultat au cas d'une économie abstraite, où, par définition, les joueurs doivent choisir des stratégies pures, et l'on fournit une interprétation du modèle Simon et Zame en terme de préférences incomplètes.
Fichier principal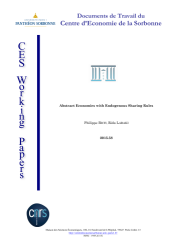 15058.pdf (647.76 Ko)
Télécharger le fichier
Origin : Files produced by the author(s)