"Nous vengerons nos pères...". De l'usage de la colère dans les organisations politiques d'extrême gauche dans les années 1968
This article examines a particular side of the logics that may have contributed to the broken allegiances to the established order that characterized critical social engagements in the 1968 era in France. Through the lens of a historically rooted sociology of commitment attentive to the protagonists' emotions, the article analyses the role of anger and the desire for revenge felt by a particular fraction of the French post-war generation to shed light on the logics that gave way to their "communist revolutionary" affiliation. Personal histories, and particularly the vast presence within their ranks of persons from Jewish background whose families were directly affected by the genocide of the Second World War, was especially crucial. Based upon oral, written and iconographic sources, the paper studies the politicization process and the conditions that led to such commitment. The research demonstrates that the conversion of anger into agency is the result of a peculiar mix of embodied dispositions to anger and desire for retaliation, a context favourable to the externalization of the violence suffered by the group, and a politically organized structure.
Cet article propose d'étudier un versant particulier des logiques qui ont pu participer aux ruptures d'allégeance avec l'ordre établi caractéristiques des engagements critico-sociétaires des années 1968 en France. Par le prisme d'une sociologie de l'engagement attentive aux émotions des protagonistes, à leurs conditions sociales et historiques de production et à leurs effets, il analyse le rôle de la colère et du désir de vengeance éprouvés par une fraction particulière de la génération post-guerre en France, jeunes hommes et femmes d'origine juive nés à la fin de la Seconde Guerre mondiale ou après la Libération, dont les familles ont été personnellement touchées par la traque et le génocide des Juifs, pour éclairer sous ce jour les logiques constitutives de leur engagement « communiste révolutionnaire ». À partir de l'analyse de sources orales, écrites et iconographiques, sont plus particulièrement étudiés les processus de politisation des acteurs et les conditions du passage à l'engagement. La recherche souligne le rôle d'une configuration particulière, formée par la rencontre entre des dispositions incorporées favorisant la colère et le désir de représailles, un contexte ouvrant une voie d'extériorisation de la violence subie et un cadre organisationnel et politique, qui crée alors les conditions de possibilité d'une conversion de la colère en puissance d'agir.
Fichier principal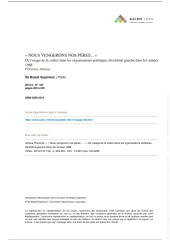 Florence Johsua_POX_26(104)_2013_Varia.pdf (1.13 Mo)
Télécharger le fichier
Origin : Publisher files allowed on an open archive