Ceci n'est pas une cellule souche. Du laboratoire au musée : le défi de la compréhension de la complexité biologique
Cell and tissue engineering is characterized by strong social and political issues that need more information to the public and well-balanced regulations regarding the biological reality of these biotechnologies This presents many educational and translational challenges in structuring the scientific debate and the implementation of appropriate cultural policies. Indeed, the state of « stem » is a polysemic term that raises misunderstandings stressed because the biological and legal qualification of « stem » cells is not comparable. The complexity of the terminology used to describe the living world is unfortunately often overlooked in public debates and underestimated in scientific communication strategies. These semantic aspects not only pose a challenge to the public understanding of « regenerative » medicine, there are also understudied issues related to the framing of cultural public action and the visualization of biological complexity.
L'ingénierie cellulaire et tissulaire est devenue un enjeu social et politique fort, qui implique des règlementations et des informations adaptées à la réalité biologique couverte par ces biotechnologies. Cet état de fait pose nombre de défis didactiques dans la structuration du débat scientifique ainsi que dans la mise en œuvre de politiques culturelles adaptées. En effet, l'état de « souche » est un terme scientifiquement polysémique qui suscite des malentendus accentués par le fait que le mode de qualification de la cellule « souche » en droit et en biologie n'est pas comparable. Malheureusement, la complexité des terminologies employées pour décrire le monde vivant est souvent occultée dans les débats publics et sous-estimée dans les stratégies de communication scientifiques. Or, ces aspects sémantiques posent des défis à la compréhension publique de la médecine dite « régénératrice ». Ils interrogent les cadrages de l'action publique culturelle et les régimes de visualisation de la complexité biologique.
Fichier principal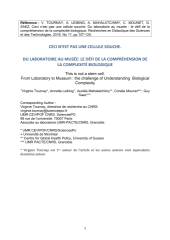 CECI N'EST PAS UNE CELLULE SOUCHEFinal2.pdf (385.52 Ko)
Télécharger le fichier
Origin : Files produced by the author(s)