Estudio contrastivo de la representación social del concepto de Sumak Kawsay
The usage of discursive formula in the institutional discourse norms and legitimates the conceptualization of social representations in the service of the current government's interests. The discourse analysis of the corpus compiled with normative and academic texts evidence that the social representation of the formulae "Sumak Kawsay" follow this principle of normalization and legitimization. Within a contextualism linguistic theoretical framework, the tools of the corpus linguistics can calculate the frequencies of the studied syntagma collocations informing about the discursive contexts of its frequent usages and about the representativeness of the institutional representations established the discourse. Even though the academic publications create a debate on the semantic recuperation of an ancestral communitarian concept, they are, in the majority of cases, in concordance with the social representations suggested by the institutional normative discourse in which "Sumak Kawsay" is literally translate into a "good Living" concept at the service of a new socialism or a sustainable turism.
La utilización de fórmulas discursivas en los discursos institucionales normaliza y legitima la conceptualización de las representaciones sociales al servicio de los intereses del poder político de turno. El análisis discursivo de un corpus de textos normativos y académicos demuestra que la representación social de la formula "Sumak Kawsay" se inscribe en este principio de normalización y legitimación. Dentro del cuadro teórico de una lingüística contextualista, las herramientas de la lingüística de corpus permiten calcular las frecuencias de los co-ocurrentes del sintagma estudiadoinformando sobre el contexto discursivo de su uso recurrente y representativo de las conceptualizaciones institucionales impuestas por el discurso. A pesar de establecer un debate sobre la recuperación semántica de un concepto comunitario ancestral, las publicaciones de los académicos son, en su mayoría, en adecuación con las representaciones sociales propuestas por el discurso normativo institucional en el cual se traduce directamente "Sumak Kawsay" por un concepto de "Buen vivir" al servicio de un nuevo socialismo o de un turismo sostenible.
Fichier principal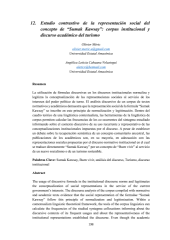 Estudio contrastive de la representación social del concepto de Sumak Kawsay.pdf (4.59 Mo)
Télécharger le fichier
Origin : Files produced by the author(s)