Intentions des enseignants lors de coenseignements universitaires : retour d'expérience en Licence
This article presents the result of a reflection on the analysis of teachers' intentions to co-teach in higher education. In order to reduce disparities in academic achievement and to lead to sustainable changes in academic practices, we have identified the personal values that underpin current co-teaching practices. Our study enabled us to propose a model establishing the intentions of the teachers (to practice, to experiment and to regulate) participating in this type of initiative as well as themacro-concerns (knowledge, weaving, piloting, support and atmosphere) extracted from the model of the teacher's professional gestures behind his/her intentions. Each of these intentions is illustrated by a concrete example from projects implemented in the University Technological Diploma (DUT)-Multimedia and Internet (MMI) course of the IUT of Béziers. MOTS-CLES :
Cet article présente le résultat d'une réflexion portant sur l'analyse des intentions des enseignants à coenseigner dans le supérieur. Dans la perspective de réduire les disparités de réussite universitaire et d'induire une certaine évolution dans les pratiques universitaires de façon durable, nous avons identifié des valeurs personnelles qui sous-tendent les pratiques actuelles de coenseignement. Notre étude nous a permis de proposer un modèle posant d'une part les intentions des enseignants (pratiquer, expérimenter et réguler) participant à ce type d'initiative et d'autre part des macro-préoccupations (savoir, tissage, pilotage, étayage et atmosphère) extraites du modèle des gestes professionnels de l'enseignant et présentent derrières ses intentions. Chacune de ces intentions est illustrée par un exemple concret de projets mis en oeuvre dans la formation Diplôme Universitaire Technologique (DUT)-Métier du Multimédia et de l'Internet (MMI) de l'IUT de Béziers.
Fichier principal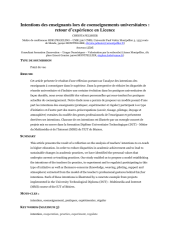 PELISSIER_LEDE.pdf (738.06 Ko)
Télécharger le fichier
Origin : Files produced by the author(s)