Déplacements en Pédibus à l'épreuve des modes d'habiter
Organised by a group of volunteer parents, the Walking School Bus (WSB) was developed in Lausanne as an alternative to children being dropped at school by parent's car. If its effects have been explored, the factors of involvement favourable to the commitment in this initiative remain scarce. We did an investigation by questionnaire of parents in Lausanne. With 218 participants, we performed a principal component analysis (PCA) based on modal habits, perceptions and residential choices. Using the PCA, a typology including five clusters was generated, spatially distributed: Activists WSB, Ultra-pedestrians, Indifferent to WSB, Pragmatics and Fervent motorists. The discussion focuses on the social provisions in favour of collective commitments such as WSB.
Instauré par un groupe de parents bénévoles, le Pédibus a fait son apparition à Lausanne dès 1999 en réponse à des problèmes d'insécurité liés à l'automobile lors des déplacements scolaires. Si ses effets ont fait l'objet de recherches, les facteurs d'implication favorables à l'engagement dans ce dispositif restent peu explorés. Nous avons mené une enquête par questionnaire auprès de parents d'élèves lausannois. Avec 218 participants, nous avons réalisé une Analyse en Composantes Principales (ACP) fondée sur les habitudes modales des enfants, les représentations et les choix résidentiels des parents. Une typologie de cinq profils répartis spatialement a été élaborée : Pédibus engagés, Ultra-piétons, Indifférents à l'usage du Pédibus, Utilitaires et Automobilistes fervents. La discussion est focalisée sur les dispositions sociales en faveur de l'engagement collectif tel que le Pédibus.
Fichier principal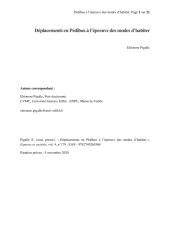 halshs-02284459.pdf (622.54 Ko)
Télécharger le fichier
Origin : Files produced by the author(s)