Romper el encierro: las fugas como micropolitica. Rapa Nui (1940-1960)
Until the 1960's the Rapanui people were officially forbidden to leave their island. However, since the 1940's young men escaped the island either by hiding in shipholds of navy or supply vessels from Chile or even sailing in small open fishing boats towards Tahiti in French Polynesia. The human dramas associated with these repeated escapes and the explanations given by the Rapanui, were key elements in the arguments against and radical critique of the administrative system established by Chile on the island. In this paper we analyze the itineraries and strategies deployed by the Rapanui youth in the preparation of their escapes. Analyzing these two aspects we gain access to the micro political and phenomenological dimension of these. Escapes were organized by the desire to break off from a forced confinement. Consequence were that the Rapanui found outside allies and met other worlds beyond their island that challenged the politics and regime of confinement imposed on them.
Hasta la década de 1960 el Estado chileno prohibía a los rapanui salir de la isla. Sin embargo, a partir de 1940, varios grupos de jóvenes isleños organizaron fugas. Algunos se escondían en las bodegas de los barcos de la Armada o de abastecimiento que regresaban a Chile y otros se escapaban en pequeñas embarcaciones rumbo a Tahiti, Polinesia francesa. La repetición de las fugas en el tiempo, las justificaciones dadas por los rapanui a estas y los dramas humanos asociados a ellas fueron clave para argumentar una crítica radical a la administración chilena de la isla. En este escrito analizamos los itinerarios y las estrategias de acción desplegadas por los jóvenes rapanui en la ejecución de sus fugas. Con ambos aspectos accedemos a una dimensión micropolítica y fenomenológica de estas. Las fugas se organizaban por una voluntad y un deseo de romper con el encierro. La consecuencia de estas fue que los rapanui encontraron aliados externos y conocieron otros mundos diferentes al insular que inspiraron la impugnación del régimen de encierro impuesto.
Fichier principal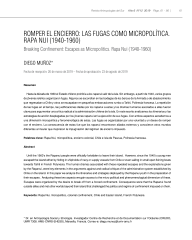 2019_romper el encierro. las fugas como micropolitica.pdf (594.8 Ko)
Télécharger le fichier
Origin : Publisher files allowed on an open archive