Que reste-t-il de kâlâpâni ? Prêtres brahmanes migrants et nouvelles frontières de l'hindouisme
With a view to questioning some of the contemporary dynamics of Hinduism's social and territorial boundaries, this article discusses the Brahmanic prohibition of travel outside India from the perspective of Brahman priests who migrate to work in Hindu temples in the diaspora. Today the sin for the upper castes of crossing of the "black waters" (kālāpāni) of the Indus and the Indian Ocean is far from dissuading these temple priests from travelling or emigrating, and their professional movements fully contribute to the contemporary transnationalization of Hinduism. However, in their view, this in no way calls into question the uniqueness and primacy of India's territory in terms of ritual, social and soteriological virtues. Similarly, the social boundaries established with regard to non-Hindus or non-Brahmans are not challenged by these migrations either, since contact with individuals and substances considered impure remains a major concern for these migrant priests. In the end, what remains for them of the prohibition to cross the kālāpāni is therefore not so much the fault or the guilt of having gone elsewhere, but the issue of contact with the Other.
Dans l'optique d'interroger certaines dynamiques contemporaines des frontières sociales et territoriales de l'hindouisme, cet article traite de l'interdit brahmanique du voyage hors de l'Inde à partir du point de vue de prêtres brahmanes qui ont émigré pour travailler dans les temples hindous de la diaspora. Le péché que pouvait représenter pour les hautes castes la traversée des « eaux noires » (kālāpāni) de l'Indus et de l'océan Indien est aujourd'hui bien loin de dissuader ces prêtres de temple de voyager ou d'émigrer, et leurs circulations professionnelles participent pleinement de la transnationalisation contemporaine de l'hindouisme. Pour autant, cela ne remet aucunement en cause, selon eux, l'unicité et la primauté du territoire de l'Inde en termes de vertus rituelles, sociales et sotériologiques. De même, les frontières sociales établies vis-à-vis des non-hindous ou des non-brahmanes ne sont pas davantage contestées par ces migrations, puisque le contact avec des individus et des substances considérées comme impures reste une préoccupation majeure pour ces prêtres migrants. Au final, ce qui demeure pour eux de l'interdit de traverser kālāpāni n'est donc pas tant la faute ou la culpabilité d'être parti ailleurs, mais l'enjeu du contact avec l'Autre.
Fichier principal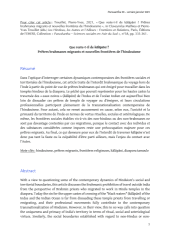 Brahmanes-migrants-kalapani-Purushartha-auteur.pdf (5.01 Mo)
Télécharger le fichier
Origin : Files produced by the author(s)