Connaissances et usages en L2 : nouvelles perspectives
The articles included in the volume Knowledge and usage in a second language show that knowledge in a second language is not a one-dimensional block, but rather a vast set of practices in the L2, receptive and productive ones engaging different cognitive and linguistic capacities at the discursive, morphosyntactic, prosodic and phonological levels. The language practices investigated in the contrastive studies presented here vary according to groups or individuals in a sometimes qualitative and sometimes quantitative way. This invites us to pay closer attention to the linguistic experience the subjects have and to reconsider the usual opposition between declarative and procedural knowledge or native and non-native speakers.
Ce que montre l'ensemble des articles rassemblés ici, c'est que la connaissance d'une langue seconde n'est pas un bloc unidimensionnel mais recouvre un vaste ensemble de pratiques de la L2, réceptives et productives, qui engagent des capacités cognitives et langagières, à la fois discursives, lexicales, morphosyntaxiques, prosodiques et phonologiques. Les pratiques langagières étudiées dans les recherches contrastives présentées ici attestent par ailleurs de différences intergroupes ou interindividuelles tantôt qualitatives, tantôt quantitatives. Ces études invitent donc à accorder une place importante à l'expérience linguistique, variable, des sujets et à réinterroger certaines oppositions, entre connaissances procédurales et déclaratives ou entre locuteurs natifs et non natifs.
Fichier principal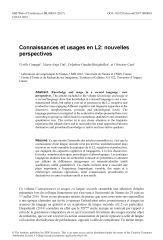 shsconf_couls2016_00001.pdf (364.67 Ko)
Télécharger le fichier
Origin : Publisher files allowed on an open archive
Licence : CC BY - Attribution