Lettres de Monsieur L. (1514-1516), éditées par J. Morsel, Paris (LaMOP)
Das Stadtarchiv Nürnberg bewahrt noch heute ein Register auf, in dem ein geheimer Briefwechsel zwischen den sogenannten "Kriegsherren" der Reichsstadt Nürnberg und einem Kundschafter in ihrem Dienst kopiert wurde, einem Adligen namens Lorenz von Leuzenbrunn aus der Nähe von Rothenburg an der Tauber, mit dem Auftrag, die Nürnberger Behörden über die Fakten und Aussagen des fränkischen Adels sowie der Markgrafen von Brandenburg-Ansbach und in zweiter Linie der Bischöfe der Region zu informieren. Die geheime Information wurde in Form von Briefen übermittelt, die mit Milch auf der Rückseite banaler, mit Tinte geschriebener Briefe geschrieben wurden und von einem Boten übermittelt wurden, dessen Treue immer wieder Anlass zur Sorge gab. Diese Briefe sind somit ein bemerkenswertes Zeugnis für die Weltanschauung des Adels der Region zu Beginn des 16. Jahrhunderts, nicht nur im Verhältnis zu den Reichsstädten, sondern auch zu den Fürsten sowie unter den Adligen selbst. Aber die Briefe sind auch als solche ein außergewöhnliches Zeugnis für die Art und Weise, wie eine Stadt wie Nürnberg ihren Geheimdienst organisierte. Schließlich zeigt allein schon die Tatsache, dass sie in ein spezielles Register kopiert wurden, welche Bedeutung diese Informationen für die patrizische Macht an der Spitze der Stadt haben könnten. Dies ist der Grund, warum dieser Briefwechsel hier vollständig ediert und erläutert wird.
The Nuremberg City Archives still keep today a register in which a secret letter exchange between the so called "Warlords" (Kriegsherren) of the imperial city of Nuremberg and a paied informant was copied, a nobleman named Lorenz von Leuzenbrunn from the vicinity of Rothenburg on the Tauber, charged with informing the Nuremberg authorities of the facts and statements of the Franconian nobility as well as of the margraves of Brandenburg-Ansbach and, more secondarily, of the bishops of the region. The secret information was communicated by means of letters written with milk on the back of banal letters written with ink, and conveyed by a messenger whose fidelity is a recurring matter for concern. These letters thus provide a remarkable testimony to the state of mind of the nobility of the region at the beginning of the 16th century, not only in relation to the imperial cities but also to the princes and among the nobles themselves. But they are also, as such, an exceptional testimony to the way in which a city like Nuremberg organized its intelligence. Finally, the very fact that they have been copied in a dedicated register shows the stake that this information could represent for the patrician power at the head of the city. This is the reason why this epistolary exchange is edited and presented here in its entirety.
Les Archives municipales de Nuremberg conservent encore aujourd'hui un registre dans lequel a été copié un échange épistolaire secret entre les « Seigneurs de la guerre » (Kriegsherren) de la ville impériale de Nuremberg et un informateur à leur solde, un nobliau nommé Lorenz von Leuzenbrunn des environs de Rothenbourg sur la Tauber, chargé de renseigner les autorités nurembergeoises des faits et dires de la noblesse franconienne ainsi que des margraves de Brandebourg-Ansbach et, plus secondairement, des évêques de la région. Les renseignements secrets étaient communiqués au moyen de lettres écrites avec du lait au verso de lettres banales écrites avec de l'encre, et acheminées par un messager dont la fidélité est un objet récurrent d'inquiétude. Ces lettres fournissent ainsi un remarquable témoignage de l'état d'esprit de la noblesse de la région au début du XVIe siècle, non seulement face aux villes impériales mais aussi les princes et entre nobles. Mais elles sont aussi, en tant que telles, un témoignage exceptionnel de la manière dont une ville comme Nuremberg organisait son renseignement. Enfin, le fait même qu'elles ont été recopiées dans un registre dédié montre l'enjeu que ces renseignements pouvaient représenter pour le pouvoir patricien à la tête de la ville. C'est la raison pour laquelle cet échange épistolaire est ici intégralement édité et présenté.
Fichier principal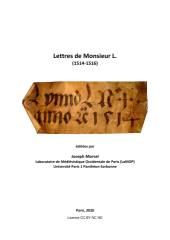 Lettres de Monsieur L (1514-1516).pdf (2.34 Mo)
Télécharger le fichier
Origin : Files produced by the author(s)