Le Minier: results of the 2019 survey
Le Minier : résultats de la campagne de prospection 2019
The thematic survey campaign that took place from the 17th of August to the 7th of September 2019 at the Minier focused on silver production vestiges in the valley of the Amalou, in the municipality of the Viala-du-Tarn (Occitanie, Aveyron). This valley was the site of a long-term mining and metallurgical activity during the High and Late Middle Ages (XIIth-XVth centuries), based on the exploitation of a few rich deposits of galena. This had a centralizing effect, leading to the creation of a permanent settlement, the current village of the Minier, and stimulated production by concentrating activities within a relatively restricted space. The goal of the 2019 campaign was to create a topographical survey, to record the remains linked to metal production already inventoried during the past two campaigns in 2017 and 2018, to expand on the architectural study of the medieval houses preserved at the Minier, and to continue the stripping of textual sources, in order to gather together and harmonize the resources.
La campaña de prospección temática realizada del 17 de agosto al 7 de septiembre del 2019 en el Minier concierne los restos de la producción argentífera del valle del Amalou en el municipio del Viala-du-Tarn (Occitania, Aveyron). Este valle fue escenario de una larga actividad minera y metalúrgica en la Edad Media central y tardía (s. XII-XV), basada en la explotación de algunos ricos yacimientos de plomo argentífero. Las tareas tuvieron un efecto polarizador con la creación de un hábitat permanente, el actual pueblo del Minier, y estimularon la actividad concentrando las empresas en un espacio relativamente reducido. El objetivo de la campaña 2019 era topografiar y documentar los vestigios de la producción, inventariados durante las dos campañas precedentes de 2017 y 2018, continuar el estudio arquitectónico de las casas medievales conservadas en el Minier el examen de las fuentes documentales, todo con el fin de reunir y armonizar la documentación.
La campagne de prospection thématique menée du 17 août au 7 septembre 2019 au Minier concerne les vestiges de la production argentifère de la vallée de l'Amalou, sur la commune du Viala-du-Tarn (Occitanie, Aveyron). Cette vallée a fait l'objet d'une longue activité minière et métallurgique au Moyen Âge central et tardif (XIIe-XVe s.), fondée sur l'exploitation de quelques riches gisements de plomb argentifère. Les travaux ont eu un effet polarisant avec la création d'un habitat permanent, le village actuel du Minier, et ont stimulé l'activité en concentrant les entreprises dans un espace relativement restreint. L'objectif de la campagne 2019 était de topographier et de documenter les vestiges de la production, inventoriés lors de deux campagnes précédentes en 2017 et 2018, de prolonger l'étude architecturale des maisons médiévales conservées au Minier et le dépouillement de sources documentaires, cela afin de rassembler et d'harmoniser la documentation.
Fichier principal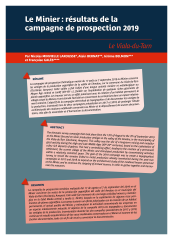 Art. 7-Minvielle Bernat Belmon Gales_compressed.pdf (6.34 Mo)
Télécharger le fichier
Origin : Explicit agreement for this submission