Higher Education in Angola facing inequalities: French Diplomacy in policy trajectories.
L'enseignement supérieur en Angola face aux inégalités : influences françaises dans les trajectoires politiques
Angola is in the wake of a tough historical past under war during which the higher education system was almost nonexistent. Since 2002, year of the peace accord signature, this system is structuring and on mutation. In 2009, the arrival of a higher education politics became a leitmotif for answering socioeconomic inequality. Extension (decentralization), internationalization (student mobility) and privatization (rise of a private higher education) characterize the measure took by the government over the last ten years. Through an exploratory research of the mutation of Angola higher education system, we will showcase the policy trajectories in Angola in the field of higher education through the influence of the French diplomacy.
L'Angola est un pays sortant d'un contexte historique douloureux marqué par la guerre, au sortir de laquelle son système d'enseignement supérieur était quasiment inexistant. Depuis 2002, date de signature des Accords de Paix, ce système est en mutation et en structuration. En 2009, l'apparition d'une politique de l'enseignement supérieur est devenue un leitmotiv face à une volonté de réduction des inégalités socio-économiques. Extension (décentralisation), internationalisation (mobilité estudiantine) et privatisation (développement de l'enseignement supérieur privé) caractérisent les mesures prises par le gouvernement ces dix dernières années. A travers une étude exploratoire, nous peignons les trajectoires politiques angolaise dans le domaine de l'enseignement supérieur en perspective des influences de la diplomatie française.
Fichier principal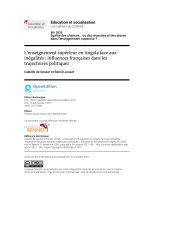 Geuser-2020-L'enseignement supérieur en Angola face aux inégalités.pdf (331.14 Ko)
Télécharger le fichier
Origin : Publisher files allowed on an open archive