Tradi pro Christo, tradere Christum : Mt 10, 20 dans le De doctrina christiana, une interprétation isolée ?
In its biblical context, Matt. 10:20 par. concerns the martyrs: they should not worry about their words since the Holy Spirit will speak in them. In De doctrina christiana 4, 32, Augustine of Hippo applies this verse to preachers in a seemingly easy play on words: 'It is not you who speak, it is the Spirit of your Father speaking in you (Matt. 10:20). If, then, the Holy Spirit speaks in those who are delivered up to the persecutors for Christ's sake, why would He not also speak in those who deliver Christ to those who learn?' Our purpose is to clarify the scope of this unexpected comment. An examination of the 30 or so other Augustinian quotations from Matt. 10:20 shows that, with a few exceptions, its interpretations fall into four broad sets. In the literal sense, the verse often explains the strength of the martyrs. Mention of the Father's Spirit can also stimulate Trinitarian reflection. The need for the assistance of the Holy Spirit is regularly opposed to the Pelagians. Finally, especially (but not exclusively) in the anti-donatist controversy, Matt. 10:20 supports the Augustinian understanding of ministries to clarify the respective roles of God and man in the case of the sacraments, biblical inspiration and preaching – a current to which doctr. chr. 4, 32 relates. We also place these Augustinian comments in the patristic tradition of Matt. 10:20.
Dans son contexte biblique, Matt 10:20 par. concerne les martyrs: ils ne devraient pas s'inquiéter de leurs paroles puisque l'Esprit Saint parlera en eux. Or, dans le De doctrina christiana, Augustin d'Hippone applique ce verset aux prédicateurs, par un jeu de mots apparemment facile: « Ce n'est pas vous qui parlez, c'est l'Esprit de votre Père qui parle en vous [Matt 10:20]. Si donc l'Esprit Saint parle en ceux qui sont livrés aux persécuteurs pour le Christ, pourquoi ne parlerait-il pas aussi en ceux qui livrent le Christ à ceux qui apprennent ? » Notre objectif est de préciser la portée de ce commentaire apparemment inattendu. L'examen de la trentaine d'autres citations augustiniennes de Matt 10:20 montre que, à quelques exceptions près, ses interprétations se répartissent en quatre grands ensembles. Conformément au sens littéral, le verset explique souvent la force des martyrs. La mention de l'Esprit du Père peut aussi nourrir une réflexion trinitaire. La nécessité de l'assistance de l'Esprit Saint est régulièrement opposée aux pélagiens. Enfin, spécialement (mais non exclusivement) lors de la controverse anti-donatiste, Matt 10:20 soutient la conception augustinienne des ministères pour préciser le rôle respectif de Dieu et de l'homme dans le cas des sacrements, de l'inspiration biblique et de la prédication – courant auquel se rattache doctr. chr. 4, 32. Nous replaçons également ces commentaires augustiniens dans la tradition patristique de Matt 10:20.
Fichier principal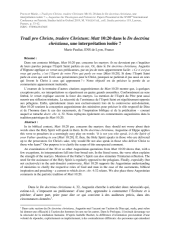 Pauliat - Tradi pro Christo, tradere Christum.pdf (660.05 Ko)
Télécharger le fichier
Origin : Files produced by the author(s)