Book Sections
Year : 2022
Fichier principal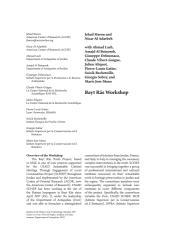 Haron-Al-Adarbeh-Lash-Al-Batayneh-Delmonaco-Vibert-Guigue-Aliquot-Gatier-Bechetoille-Sobrà-Mano-SHAJ-14-2022.pdf (7.13 Mo)
Télécharger le fichier
Origin : Explicit agreement for this submission
Dates and versions
Licence
Identifiers
HAL Id :

halshs-03788501 , version 1
Cite
Jehad Haron, Nizar Al-Adarbeh, Ahmad Lash, Amjad Al-Batayneh, Giuseppe Delmonaco, et al.. Bayt Rās Workshop.
Culture in Crisis: flows of peoples, artifacts, and ideas. Proceedings of the 14th international conference on the history and archaeology of Jordan, Florence, Italy, 21-25 January 2019
, 14, Department of Antiquities, pp.803-811, 2022, Studies in the History and Archaeology of Jordan.
⟨halshs-03788501⟩