This report describes the organization of the fundamental frequency (F 0) variations
in French sentences. It is based on the analysis of the Fo patterns of declarative sentences read
by six native speakers of French. The prosodic-syntactic structure has several levels: the prosodic sentence, the prosodic sense-group and the prosodic word. It describes the different strategies used by the speakers, and the effect of the rate of speech. The paper mentions a feature unnoticed in the previous studies in French: the initial rise at the beginning of the lexical words in sentences read in a neutral manner. It describes the effect of the nature of the underlying phonemes on the exact location of the Fo rises and valleys, and the differences between speakers.
Ce rapport décrit l'organisation de la courbe de la frequence du fondamental (Fo) dans les phrases françaises. L'étude est basée sur l'analyse de courbes de Fo dans des phrases déclaratives lues par six locuteurs. La structure prosodique a plusieurs niveaux, au moins, la phrase prosodique, le groupe de sens prosodique et le mot prosodique. Le rapport décrit les différences entre les locuteurs, et les différences dues à des changements de débit de parole. Il relate un fait non noté auparavant : l'existence d'une montée initiale de Fo au début des mots lexicaux dans la parole lue sans insistance. Il décrit l'effet de la nature des phonèmes sous-jacents sur la position exacte des pics et des vallées de Fo, et les différences entre locuteurs.
Fichier principal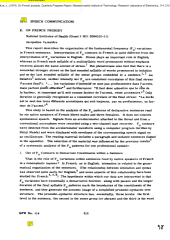 1974a.pdf (1.69 Mo)
Télécharger le fichier
Origin : Files produced by the author(s)