L'évaluation par les pairs en projet
This paper presents learning by projects as it is implemented at école Centrale de Lille. Starting from a series of interviews diagnosing the main issues with our evaluation system, we study a social skill peer self-evaluation system called the "pme matrix". We adapt it through our own framework for groupwork social skills evaluation, and design appropriate software and documentary tools. Finally, six years after the launching of our pme matrix system, we examine how students'teams use it in their projects.
Nous présentons la pédagogie par projets à l'école Centrale de Lille en mettant en relief ses principales caractéristiques. A partir des problèmes du précédent système d'évaluation des projets, diagnostiqués en 2006, nous montrons comment nous nous inspirons d'un système d'évaluation des savoir-être de travail en équipe intitulé " matrice pme ". Nous adaptons ensuite le principe de la matrice pme dans un nouveau référentiel de compétences, à travers des outils informatiques, organisationnels et documentaires. Nous examinons enfin les modalités d'appropriation de ce dispositif par les équipes d'étudiants, 6 ans après leur mise en œuvre.
Fichier principal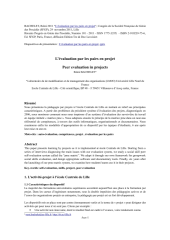 Evaluation_par_les_pairs_en_projet_sfgp_2011_Remi_Bachelet.pdf (398.24 Ko)
Télécharger le fichier
Evaluation_par_les_pairs_en_projet_sfgp_2011_R_Bachelet_diapos.pdf (648.43 Ko)
Télécharger le fichier
Origin : Files produced by the author(s)