La reconstruction entre politiques et cultures urbanistiques. Réflexions à partir de l'exemple de Beyrouth
Urban reconstructions are times when political struggles are very visible. But such projects also have a very strong technical dimension. The purpose of this article is to articulate both dimensions of such town planning interventions, by elaborating a framework of analysis based on two axes composed of several criteria. The first axis refers to reconstruction politics and the second one to the cultures of planning. This framework is then applied to Lebanese planning. Four episodes of reconstruction in Beirut are analysed: the projects of 1977 and 1982-83, the Solidere project (beginning 1991) and, more in depth, Waad project in the Southern suburb of Beirut after the 2006 war. Regarding these projects as a series unravels the characteristics of each one of them and help identify the distinctive features of the Southern suburb operation. These are : the spatial choices made (rebuilding alike), the quick pace of rebuilding, the endogeneous financing (without market) and the culture of planning, which is both local and partisan, of municipal kind, as developed by Hizbollah.
Les reconstructions urbaines sont des moments où les rapports de force politiques sont très visibles. Mais ces projets comportent également une très forte dimension technique. L'objectif de cet article est d'articuler ces deux dimensions de ces opérations d'urbanisme, en construisant une grille de lecture basée sur deux axes eux-mêmes décomposés en une série de critères : le premier axe renvoie aux politiques de reconstruction, et le second aux cultures de l'urbanisme. Cette grille est ensuite appliquée à l'urbanisme libanais. Sont ainsi analysés quatre épisodes de reconstruction à Beyrouth : les projets de 1977 et 1982-83 et l'opération Solidere (démarrée en 1991) puis, plus en détail, l'opération Waad dans la banlieue sud de Beyrouth à la suite de la guerre de 2006. La mise en série de ces opérations permet de dégager les caractéristiques de chaque projet/opération et d'identifier, in fine, les caractères originaux de la reconstruction de la banlieue sud, notamment les choix spatiaux (reconstruction à l'identique), la temporalité très rapide des opérations, le financement endogène du projet (sans recours au marché) et la culture urbanistique à la fois locale et partisane, de type municipale, développée par le Hezbollah.
Fichier principal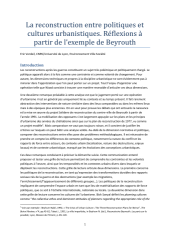 Les_cultures_de_reconstruction_Waad-V2.pdf (352.66 Ko)
Télécharger le fichier
waad-verdeil-ppt.pdf (1.32 Mo)
Télécharger le fichier
Origin : Files produced by the author(s)