Les activités des médecins du travail dans la prévention des TMS : ressources et contraintes
MSD represents the primary cause of occupational illness and the occupational health physician would appear to be a determining stakeholder in prevention. The studies of risk factors of MSD are important but the studies of intervention are limited. The objective of our research is double: understand the practices of occupational health physician and give the means of activity development. Theoretical framework is multidisciplinary approach about activity analysis. The problematic is to produce knowledge of activity of occupational health physicians to take into account their activity in the debate of professional evolution and pluridisciplinarity in health of work. The disciplinary skills of each equip of research produce some methods. Fifty physicians participate in our research. We have observed during 60 day with ergonomics methods, notably 200 sequences of medical consultation with protocol to record data, confirmed by institutions of protection of physician profession and protection of data. Some types of interview are realized (65): semi-directive, clarification, simple self-confrontation, cross self-confrontation. Furthermore, our research is based on the objective to develop the activity of occupational health physicians. To do this, we set up four groups of volunteer occupational health physicians. The discussion of groups is based on objective data of activity (14 discussion sessions) and on instruction of double (15 discussions sessions). All equips of our research have building a common reference to facilitate the data exploitation. Each equip has written one or some articles (in annex of report) to keep this specificity of data production based of disciplinary approach. The first result is that there are some skills of occupational health physicians to make prevention. Someone physicians prefer to realize their action in consultation while the others prefer make intervention in company. The professionals styles of physicians according to the gender building with experience and training depend on context of company, legislative prevention system, relationship between stakeholders and operators, which facilitate or slow down to built the room of maneuver to exercise these professional styles. The activity of physician can be to hamper in certain conditions. The occupational health physicians are the only one to follow the operators, the story of company and relationships of stakeholders, the evolution of health and work. They use their knowledge about work in company to help operator to understand the relation between work and health. They mobilize the words using by operators in consultation, with respected the medical secret, to modify the stakeholders representation of the interaction between work and health. In the other words, it is impossible to separate the individual approach and collective approach in prevention activity of occupational health physician. These different approaches organize the actions of physician. The discussion of research led to questioning the legislative evolution and comparing our French system with de others system like Quebec system.
Les TMS constituent l'une des premières maladies professionnelles et les médecins du travail jouent un rôle important dans la prévention. Aujourd'hui les connaissances sur les facteurs de risque à l'origine de cette pathologie font l'objet de débats sur la prévention des TMS. Les recherches ont besoin d'évoluer vers une meilleure connaissance des modalités de prise en charge de ce risque par les professionnels de la prévention. L'objectif de notre recherche est donc double : comprendre les pratiques des médecins du travail et participer au développement de leur activité de prévention. Notre cadre théorique multidisciplinaire (ergonomie, clinique du travail, sociologie du travail) est celui de l'analyse du travail. Notre problématique est la production de connaissances sur l'activité réelle du médecin afin de contribuer au débat sur les évolutions de leur métier et la pluridisciplinarité en santé au travail. Plusieurs méthodologies ont été mises en œuvre selon les compétences et les disciplines de chaque équipe de recherche. Une cinquantaine de médecins volontaires ont participé à notre recherche. Nous avons fait plus de 60 jours d'observation ergonomique du travail sur le terrain, dont 200 observations de consultation avec un protocole validé par le conseil de l'ordre et la CNIL. Différentes formes d'entretiens (au total 65) ont été réalisés (semi-directif, d'explicitation, d'auto-confrontation simple et croisé). Afin de contribuer au développement de l'activité de prévention des médecins du travail, nous avons constitué quatre groupes de pairs qui ont pu échanger sur les traces de leur activité réelle (au total, 14 réunions collectives) et à partir des méthodologies d'instruction du sosie (au total, 15 réunions collectives). Nos équipes de recherche ont partagé un référentiel commun afin de faciliter l'exploitation des données. Pour ne pas perdre la spécificité de chaque discipline, chaque équipe a écrit un ou plusieurs textes (en annexes du rapport) qui constituent la base d'un document de synthèse. Premier résultat, il existe plusieurs manières et façons de faire de la prévention des TMS chez les médecins du travail. Certains médecins privilégient une action en consultation alors que d'autres sont plus dans une action en entreprise. Mais ces styles, s'ils correspondent à des postures professionnelles construites avec l'expérience et le parcours de formation, sont très dépendants du contexte de l'entreprise, des dispositifs légales de prévention et du type de relations avec les salariés, les acteurs de l'entreprise et de la prévention, qui rendent plus ou moins possibles leurs mises en œuvre. L'activité du médecin dans certaines conditions est empêchée. Les médecins du travail sont les seuls intervenants de la prévention à tenir dans la continuité l'histoire de l'entreprise, des relations, de la santé. Ils ramènent leurs connaissances sur le travail pour aider le salarié à faire les liens entre le travail et la santé. Ils mobilisent la parole des salariés issue de la consultation dans les espaces d'échanges publics de l'entreprise, tout en respectant le secret médical, afin de modifier la représentation des acteurs sur les liens travail-santé. Autrement dit, il est impossible dans l'activité de prévention du médecin de délier l'approche individuelle et collective car celles-ci sont sans arrêt articuler et combiner. Cela conduit à s'interroger sur l'évolution de la loi et à comparer les pratiques avec d'autres systèmes de prévention, comme celui du Québec.
Fichier principal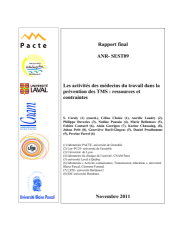 rapport_final_medtra_2012.pdf (10.68 Mo)
Télécharger le fichier
Origin : Files produced by the author(s)