La GIZC et le développement touristique : enjeux d'un principe organisateur pour la durabilité des stations littorales atlantiques
Aware of the importance of tourism in coastal areas, conflicts of use, the deterioration of the coastal environment and the relatively small number of publications dealing with tourism stakeholders vis-à-vis the Integrated Coastal Zone Management (ICZM), we decided to conduct an exploratory study on the subject. Our study area is concentrated on the Atlantic coast, a coherent geographical area, due to the relatively similar characteristics of the regions studied. We interviewed the senior management in four coastal stations and local actors who we considered representative because directly involved in the implementation of ICZM . As we will develop in this article, the growing attraction of the coastal tourism creates tourism concentrations and sometimes situations of "huge visitation". However, some areas apply an "intregrated dimension" of ICZM to manage the pressure. Examples include the management of co-presence by means of local decrees, but also the sustainable development awareness established by local authorities demonstrates a formalization of the administrative organization. We noticed that all actors interviewed understand the importance of actions for tourism and put in place measures accordingly. It appears that the Atlantic coast stations studied are very much involved in ICZM, but that the tourism stakeholders have difficulties in adapting to an idea which may be too conceptual.
Conscients de l'importance de l'activité touristique en zone littorale, des conflits d'usage, de la dégradation de l'environnement côtier et du nombre assez réduit de publications traitant du regard des acteurs touristiques vis-à-vis de la Gestion intégrée des zones côtières (GIZC), nous avons souhaité réaliser une étude exploratoire sur le sujet. Notre territoire d'étude porte sur le littoral atlantique un espace géographique cohérent, du fait des caractéristiques assez proches des régions étudiées. Nous avons interrogées quatre stations littorales et des acteurs locaux considérés comme représentatifs, car directement engagés dans la mise en œuvre de la GIZC. Aussi nous verrons dans cet article que l'attrait toujours croissant du littoral crée des situations de concentration voire « d'hyper fréquentation ». Pourtant, certains territoires se démarquent en appliquant une « dimension intégrée » d'aménagement et d'accueil touristique qui leur permet de gérer cette pression excessive. On peut mentionner : la gestion des pratiques au cœur d'espaces de coprésence au moyen d'arrêtés municipaux, mais également les sensibilisations à l'environnement inscrites dans un temps long, sans oublier la mise en place de nouveaux équipements de loisirs et de nouveaux services. On remarquera également que l'ensemble des acteurs interrogés est conscient de la nécessité d'une action plus importante à destination des touristes et met en place des dispositifs dans ce sens. Il apparait donc que les stations littorales atlantiques étudiées s'impliquent, mais que les parties prenantes en particulier les acteurs touristiques peinent à s'approprier une notion peut-être trop conceptuelle.
Fichier principal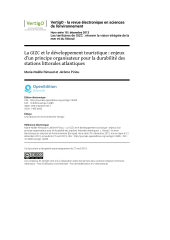 vertigo-14285.pdf (448.1 Ko)
Télécharger le fichier
Origin : Publisher files allowed on an open archive